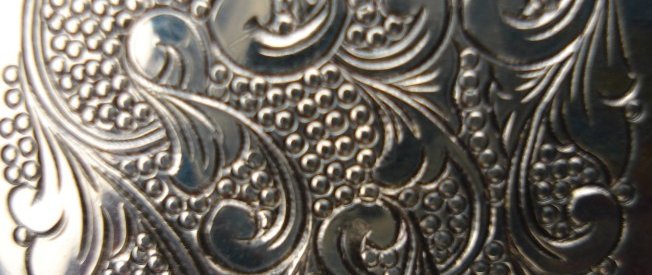 Norah Bourbon has been engraving since 2006. Taught by her father, Andrew Bourbon, she's worked on firearms for the Smith and Wesson factory, the Colt factory, as well as other side jobs. In 2008, Norah branched off and started a jewelry business and sold her handcrafted jewelry at craft fairs on Cape Cod. October 2013- October 2016, her and her sister, Amy, owned a store on Main Street in Orleans called Silver And Clay, where they sold their handmade jewelry, pottery, ink drawings and other unique gifts.
Currently, Norah has been engraving sheriff badges for a company out in California, who supply badges to departments throughout the state. She is also involved in blacksmithing. She first started learning in 2010 by a blacksmith in Brewster. But since the fall of 2015, Norah has been volunteering at a blacksmith shop in Barnstable Village, off of Route 6a, between the Coast Guard Museum and the Old Jail. At the shop, she had been learning the trade from master blacksmith, Jim Ellis. She will be there Fridays and Saturdays from 10am-2pm starting May 1st-Nov1st. On Sundays, Norah will be volunteering at the Brewster Drummer Boy Forge on Sundays 10am-1pm during the Farmers' Market June 24th-September 9th, plus the Harvest Market on October 21In the winter, Norah works at her own forge, stocking up on inventory, testing out different techniques and creating hardware, kitchen cutlery, jewelry and other items for herself as well as items to sell.
All engraving displayed and advertised through this website is done by hand, with hammer and chisel. There are no machines used to create the decorative engraving that embellish the metals used as blank canvas.
Enjoy